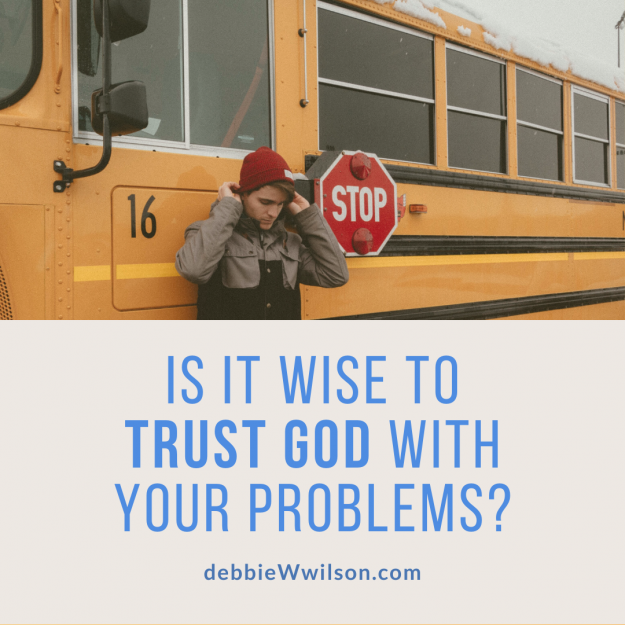 Is it possible or even wise to trust God with problems and disappointments before you see them resolved?
During my senior year of college, as the time approached to launch into adulthood on my own, a restless anxiety began to build in me. When I overheard some sorority sisters talking about going on a ski retreat with a Christian group, I perked up. This group was a bit more radical in their faith than I was, but a ski retreat should be safe. And I needed a dose of inspiration.
The group chartered an old school bus to carry us to Gatlinburg, Tennessee. As soon as we hit the mountain foothills it became obvious the bus was made for the flat lands of coastal Georgia—not the mountains of Tennessee. It began to sputter, stutter, and stop.
The first time we halted, different students involved in this ministry prayed while the bus driver worked outside to repair the bus. Their prayers sounded something like this, "Thank you, Lord for being in control."
"Thank you, for allowing this to happen."
"Thank you, that you are working this out for Your purpose and our good."
Now, I'd thanked God before. But I thanked Him for things I was actually thankful for. I'd never thanked Him for disappointments or when life wasn't working out as I wanted. These prayers certainly grabbed my attention.
As we climbed steeper hills, the bus's stutters and stops became more frequent. And the bus heater quit working. My toes were as frozen as the snow on the side of the road. Each breakdown brought more prayers of thanksgiving. Finally, late into the night, long after the conference's evening sessions had ended, on the side of a dark highway sat our broken-down bus—again.
Across the street from us sprawled a dingy motel that could have been named Cockroach Inn. When talk about staying there surfaced, I added my prayers to the others—silently. "Dear Lord, don't listen to these people! I don't want to spend the night here. We're cold, hungry, and tired. Please get us to the conference—tonight."
God listened. The bus began to rumble, and we were off. We tiptoed into our sleeping rooms so as not to awake the others.
The weekend was as wonderful as the trip had been annoying. The speakers were great, the singing was delightful, and it was fun. But what arrested my attention most was the attitude of the students and staff. One guy lost his senior ring and didn't fret over it. Who were these people who trusted God with their disappointments with such ease?
I'd been attending church since nine months before I was born. I'd come to know Jesus as my Savior at a retreat in middle school. I knew I was going to heaven when I died. But I lacked the calm confidence these students displayed in the Lord. I'd never considered trusting Him with my day-to-day disappointments.
I came home from that weekend thirsty to know Jesus better—not because of the wonderful teaching, not because of the great worship, and not because of the fun—though those didn't hurt. I wanted to know Jesus more because of the trust and peace these students exhibited during disappointment.
These students demonstrated an eternal perspective. God was bigger than this frustration. He was wiser than they were. He was worthy of their trust.
And they were right. Not only did God use that broken-down bus to make me thirsty to know Him better, He used it in many other students' lives too. What looked like a big mess ended up being the highlight of the conference for many students.
What might happen if, by #faith, you choose to thank God for a challenge before you can see how He will use it? #trust
Click To Tweet
Do you have a problem or disappointment that is weighing on you? What might happen if, by faith, you choose to thank Him for it before you see how He will use it?
And without faith it is impossible to please God, because anyone who comes to him must believe that he exists and that he rewards those who earnestly seek him" (Heb. 11:6 NIV).
Not only is it possible to trust God in the midst of disappointment, it is powerful. It brings us peace, it is a brilliant witness to an anxious world, and it pleases God!
Not only is it possible to trust God in the midst of disappointment, it is powerful. It brings us #peace, it is a brilliant witness to an anxious world, and it pleases God! #BigGod
Click To Tweet
Blessings,

Photo by David Preston on Unsplash
Sometimes I link with these great sites:
#InstaEncouraements, #TellHisStory  #Recharge Wednesday, #TuneinThursaday, #Dance with Jesus, #FreshMarketFriday, #Grace&Truth, #Faith 'n Friends