Books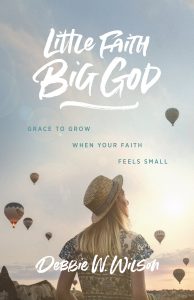 Let the ordinary people from Hebrews 11 show you how to live strong and finish well.
"I highly recommend Little Faith, Big God …" –Josh McDowell, Christian apologist and best-selling author of Evidence That Demands a Verdict
Click here to order or learn more.
Leader's Guide available here.

It's not the size of your problems, but the size of your God!
"These pages helped me to realize the wonder and matchless love that a Big God has for this little woman. May all my days be spent boldly living out that love and truth." –Amy Richissin, development officer, Turning Point
Did you know Jesus' family tree is full of shady women? … Click here to order and learn more.
Download the FREE Leader's Guide

Learn more and order the leader's guide here.
Also available in five smaller e-books on Amazon. com.
Small Group Opportunities
Click here to learn more about The Harbor, an ongoing small group for men and women.
Click here to learn more about our small group studies for women.

Have you dreamed of writing a book?
The course, Yes You Can Write a Book, will help you to immediately find the solutions to help you write and publish your first or next book.  And yes, the instruction and helps inside Yes You Can Write a Book course, will help you take the next steps to write, complete, and publish your book. Click here for the course, Yes, You Can Write a Book!
For Writer/Speaker coaching, with Debbie click here.
Save
Save
Save