Little Women, Big God
Meet the surprising women in Jesus' family tree as they journey through impossible circumstances and discover that quality of life is not determined by the size of our problems but by the size of our God.
While we work hard to garner the good opinion of strangers and friends, Jesus highlights the infamy in His family tree. I'm convinced He showcased these women for us. Their stories remind us it doesn't matter how big of a mess we've made in our lives, how much we've lost, or how little we know about God. Little faith in a big God is enough to change our destinies.
What's more surprising than a holy God spotlighting these women is how He rescued and blessed each one–and how He wants to bless you.
You will relate to Tamar, Rahab, Ruth, Bathsheba, and Mary as they face failure, loss, betrayal, and a murderous hunt. You will discover God's care for ordinary women and how He uses human weakness and failure as an opportunity to reveal His strength and grace. You will also record God's faithfulness in your own journey of faith and see how everyday women who walk with Christ have meaningful stories worth telling.
Thought-provoking questions and insights will reveal how to apply faith when walking through grief, selecting a mate, facing rejection and temptation, and forgiving oneself and one's enemies. Finally, you'll learn faith in a big God is life's only unshakable foundation.
"Women in the Church today are hungry for excellent Bible study material, and this book will be such a blessing to those who use it. I am now in my retirement years, and I have spent those years teaching a women's Bible study at my church. Guess which book will be the focus of the next study?"
—Diane Passno, Bible teacher, senior vice president, Focus on the Family (retired)
About Debbie
Debbie W. Wilson is an ordinary woman who has experienced an extraordinary God. Drawing from her personal walk with Christ, twenty-four years as a Christian counselor, and decades as a Bible teacher, Debbie speaks and writes to help women discover relevant faith. She and her husband, Larry, founded Lighthouse Ministries in 1991. They, along with their two grown children and two standard poodles, enjoy calling North Carolina home. Share her journey to refreshing faith at her blog.
Email [email protected] if you'd like to receive a free recording of a conference call about leading Little Women, Big God.
What Others Have Said
"In her new Bible study, Debbie brings new perspective on how to see ourselves in the lives of these unlikely women. Some were abused and broken, some crushed under the weight of despair, and even one young unqualified girl was chosen for a big purpose. These pages filled with truth helped me to realize the wonder and matchless love that a Big God has for this little woman. May all my days be spent boldly living out that love and truth."
—Amy Richissin, development officer, Turning Point
"Are your problems threatening to crush you? Debbie Wilson's outstanding book, Little Women, Big God, shows you where to take them. Our help comes from our big God. Take a deep breath, settle down, pull yourself together. Help and hope are here."
—Nancy Cobb, national and international speaker, author of multiple books, including The Best Thing I Ever Did for My Marriage
"Today's challenges are not new to God. Using the stories of the women of old, Little Women, Big God shows you how to overcome your trials."
—DiAnn Mills, author of Deadlock and Deadly Encounter
"We all have a story to tell, a story worth telling, a story that is an intricate part of God's great story of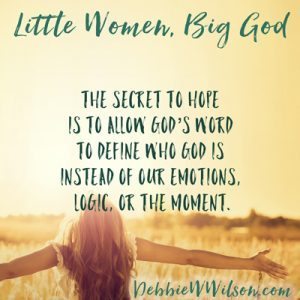 hope. But deep down we wonder if God can really use us. In these ten in-depth studies of women in the Bible, Debbie Wilson opens the door to how God worked in their lives . . . and how he works in yours. The insights you gain will enable you to face your struggles, look deeply into the eyes of the gracious Jesus, find hope and healing, and discover the empowering and equipping you need to tell your story."
—Rich Miller, president, Freedom in Christ Ministries-USA; author; speaker
"With the timeless power of God's Word, Debbie Wilson fearlessly addresses issues that crush modern women and make them feel small. From familiar problems like fertility to forgiveness, Debbie gently leads us to follow the examples of women in Scripture who have wrestled and found God's healing solutions."
—Amy Carroll, Proverbs 31 Ministries speaker and writer, author of Breaking Up with Perfect
"What an incredible study on this precious tapestry of little women with a BIG GOD! Each week you will have the joy of looking at life from a different woman's example of truly experiencing God in the midst of life's joys and challenges. Thank you, Debbie, for drawing us to our BIG GOD, who loves each of his little women with such an intimate eye on our lives. May each of you who choose to go on this journey learn that our God is a creative Father, who has a very personal plan and purpose for each of his daughters!"
—Nancy M. Wilson, Global Ambassador/Cru, author, speaker, StoryWave director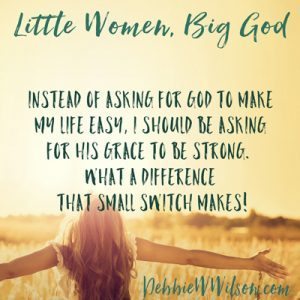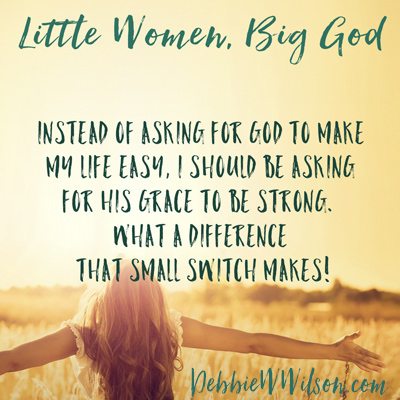 "Debbie Wilson makes each woman in this study so real and timely—the challenges each woman faced ARE relevant to us today. Debbie skillfully opens our eyes to this connection. Little Women, Big God is refreshing, thought-provoking, and encouraging while showing us that nothing is too big for God. This is one Bible study you don't want to miss! I truly didn't want it to end."
—Lisa Grimes, president and CEO, PurThread Technologies, chair, Lighthouse Ministries
"Debbie Wilson has the gift of bringing God's Word to light and doesn't disappoint in her latest book, Little Women, Big God. Her wisdom and insight are sure to enrich the spiritual life of any reader. I highly recommend Little Women, Big God."
—Diane Rumley, co-founder, Support Military Spouses
"I love Debbie Wilson's Bible studies. She always brings a fresh perspective from Scripture and shows me another view of Truth. When I read her material I am always empowered to make wiser, stronger choices and I am freer to be who God created me to be. She is a perfect blend of Grace and Truth, and Little Women, Big God is no exception."
—Jane S. Wolfe, founder and executive director, Dew4Him Ministries, Inc.
Purchase
Family Christian Bookstore, LifeWay
Save
Save
Save