I watched "Jack" tell his yellow lab, Buttercup, to wait. He then crossed the room and turned his back to her. "Sit." "Stand." "Down," he said. His dog responded to each command.
My daughter and I enrolled our two standard poodles in obedience training. "Jack," a fellow classmate is hearing-impaired. His dog is his partner. She's on duty all day listening to and for "Jack."
Our dogs' practice a few minutes a week. The difference is obvious.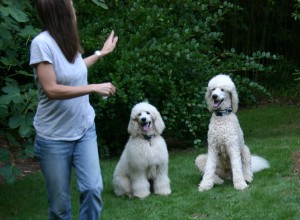 Training makes a difference but so does motivation. Our Cosette likes to please. She throws back her head in an open-mouthed smile and prances toward me when I call her name. Max looks at me sideways, close-mouthed, and weighs whether he wants to come or not. At night he often chooses the night scents over our calls. We now use a leash to take him out near bedtime. His stubbornness has limited his freedom and late night pleasures.
Watching "Jack" relate to Buttercup and the difference between my dogs reminds me of a Psalm.
"I will instruct you and teach you in the way you should go;Continue Reading