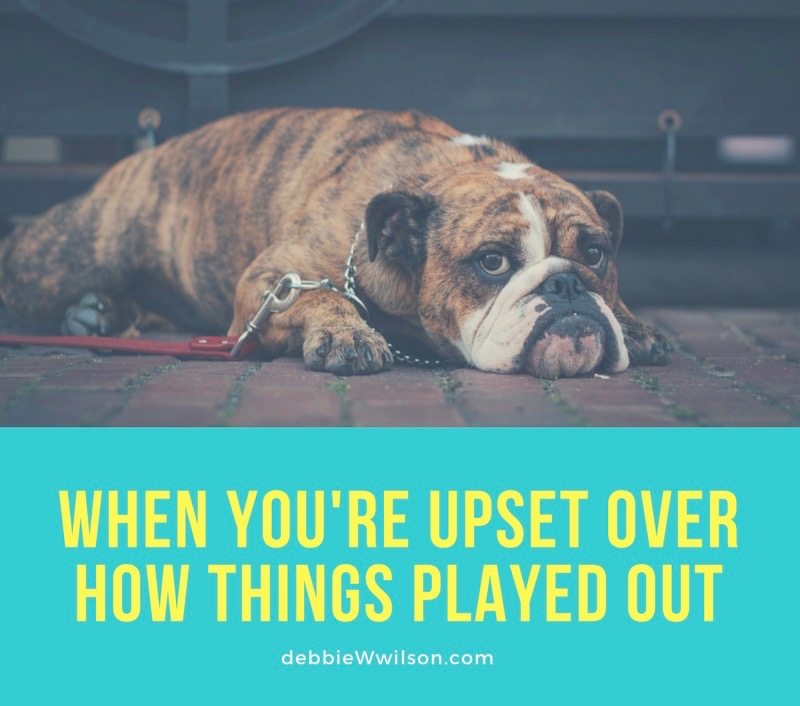 Has God ever given you a tough assignment, one you didn't want? I can think of a few. The toughest involved addressing concerns with people I cared about but knew they probably would not receive well.
On two occasions, I picked up clues from different friends that caused me concern. If my assessments were right I knew eventual harm awaited them if they continued down their chosen paths. I asked questions hoping to reassure my concerns or open their eyes. But their answers only increased my concern, and they ignored or missed the implications of their answers.
A wise woman once told me that when you're gnashing at the bit to confront someone, you're probably not the one to give the message. But if you dread the thought of delivering it, and the pressure to speak won't leave, you probably are the one to give it.
God knows no one likes rejection, especially from a friend. But He warns us to not shrink back in giving a warning, even if the hearer rejects the message—and you.
When I bring an army against a country, the people of that land choose one of their own to be a watchman. When the watchman sees the enemy coming, he sounds the alarm to warn the people. Then if those who hear the alarm refuse to take action, it is their own fault if they die. They heard the alarm but ignored it, so the responsibility is theirs. If they had listened to the warning, they could have saved their lives. But if the watchman sees the enemy coming and doesn't sound the alarm to warn the people, he is responsible for their captivity. They will die in their sins, but I will hold the watchman responsible for their deaths" (Ez. 33:2-6 NLT).
When praying and asking questions didn't alter my friends' paths, their progressively questionable choices cornered me. I had to speak.
In both cases the immediate response was anger. (Which often indicates you've hit the target.) One vented to her friend who helped her see the genuine concern behind my words. God graciously put her back on track. Our friendship was unharmed.
The other stayed her course and walked into what I'd feared. She rejected my effort to smooth the situation. I thought of those instances while reading Jonah.
Jonah rejected the assignment God gave him to go to Nineveh. He boarded a ship headed away from God's assignment. God sent a terrible storm that caused the sailors to draw lots to see who was responsible for the danger. The lot fell on Jonah. When Jonah told how he was running away from the Lord of the earth and the sea, the sailors were terrified and tried to row to land.
When that didn't work, they acquiesced to Jonah's request and threw him into the sea. The storm immediately calmed.
God sent a big fish to swallow Jonah. Being in the fish for three days gave Jonah time to reflect. He vowed to obey God's assignment, and God commanded the fish to spit him onto dry land.
This reluctant prophet obeyed God and delivered an eight-word warning throughout Nineveh. "Forty more days and Nineveh will be overthrown" (Jonah 3:4 NIV).
God obviously had prepared Nineveh. They didn't argue that they didn't deserve judgment. All the people, including the king, turned from their wickedness and humbled themselves before God.
When God saw what they did and how they turned from their evil ways, he relented and did not bring on them the destruction he had threatened" (Jonah3:10).
An eight-word sermon repeated over three days and a whole nation repents. Jonah must have been elated, right?
But to Jonah this seemed very wrong, and he became angry. …'Now, Lord, take away my life, for it is better for me to die than to live'" (Jonah 4:1, 3 NIV).
This did not turn out the way Jonah had hoped.
In my case, I'd expressed my concerns to my friends because I wanted to spare them from harm, but one didn't listen. When things don't turn out as I like I tend to go over them in my mind. How could I have done it better?
Jonah's story is a comfort when our efforts don't turn out as we want.
Jonah reluctantly obeyed God, but he wanted God to destroy, not spare, Israel's wicked enemy. God gave him an object lesson to teach him to trust God has good reasons for what He does.
This reminded me that if I obey God, however imperfectly, He will use it to accomplish His will. My job is to obey and trust Him with the outcome. Like Jonah, I may not agree with how things turn out, but I can trust God knows best.
What has God asked you to do that you're afraid won't turn out like you want? When we know God is leading us we can trust Him with the outcome, even when the outcome is not what we'd choose.
Click here to add your thoughts.
Like Jonah, I may not agree with how things turn out, but I can trust God knows best. #Devotional, #Jonah
Click To Tweet
Blessings,

Need some ideas for Mother's Day?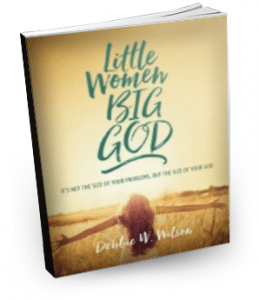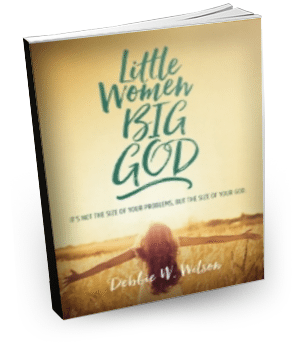 Give Mom some biblical encouragement with Little Women, Big God. It's not the size of your problem, but the size of your God.
Blog photo by Justin Veenema on Unsplash
Sometimes I link up with these great sites:
#Kelly Balarie & Friends, #Recharge Wednesday, #Coffee for Your Heart, #TuneinThursaday, #HeartEncouragment #Dance with Jesus, #Grace and Truth,