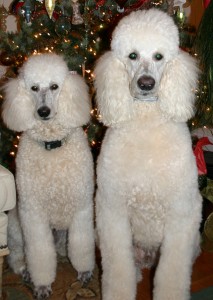 "Ask and it will be given to you." Matt. 7:7
My female standard poodle asked for a rawhide chew. Actually she demanded one. Cosette is quite persistent when she wants a chew. I told her to wait. She waited for two minutes. Then she pawed and gnawed at the container again.
Max, the male, came in and saw her finishing her chew. Instead of asking me for a chew, he whimpered at her. From the next room, I said, "Ask me, not Cosette."
My words spoke to me. I wonder how often I've whined hoping others would supply what only God can provide. What would happen if I asked God for those things instead of throwing out hints to others?
Jesus offers an invitation with an astounding promise:
"Ask and it will be given to you; seek and you will find; knock and the door will be opened to you. 8 For everyone who asks receives; the one who seeks finds; and to the one who knocks, the door will be opened." Matt. 7:7-8
Ask…
What could be simpler than to ask? What do you long for? What are your worried about? Have you asked God for it or about it? I've often experienced immediate relief when I've simply asked.
But…
If you're like me, a nagging question darkens bright hope. Is it really that simple? Haven't I prayed for things I didn't receive? Good things, unselfish prayers. So what does Jesus mean, "everyone who asks receives"?Continue Reading