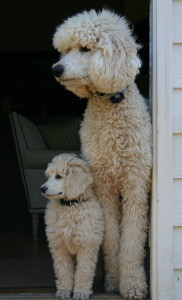 I knew my backyard neighbor was outside when I heard our two standard poodles barking at the hedge. Barking is part of their watchdog DNA. But barking at neighbors is rude.
I called Max and Cosette to quiet them. Cosette threw back her head and pranced toward me, tail wagging. Max, who is older and knows he's not supposed to bark at the neighbor, turned to dart away until he saw Cosette running to me. He hesitated, then joined her.
I praised them both for coming, and we happily went inside—away from temptation.
Their different initial reactions to my call made me consider how I respond to God. Do I turn away because:
I've been caught in something I know I shouldn't be doing?
I think He's angry with me?
I'm afraid He's taking away my freedom and fun?
Or do I run to Him because:Continue Reading