"When the vet calls to confirm my appointment for Tuesday don't cancel this time." Larry's words pierced my heart. He had made two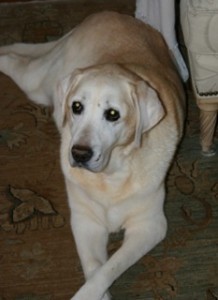 appointments to put our 14 1/2 year old lab down, but each time she had rallied so I'd canceled the appointments.
Larry's back is more important than giving her a little more time, I told myself. But I grieved. Corrie was deaf and lame, but still alert in the evenings. She never so much as whimpered when she fell, though her falls had to hurt her arthritic body. Our vet had said most dogs would be grumpy at her stage in life. Corrie never was.
I spent Sunday afternoon alone with Corrie.
She ate the food I placed between her front paws. She loves her biscuits, so I gave her extra. I selected the thinnest rawhide chew, but by evening she was so weak she couldn't hold her head up. I held it for her. Her life was ebbing out before my eyes. Tears ran down my cheeks every time she looked at me with her lab eyes.
As painful as it was to see her like this, it was her last gift to me. It was her way of saying, "Larry's right. It is time." I needed that assurance.
For the last year Larry and Brant have had to carry Corrie outside. She couldn't negotiate steps. But she still had her spirit. She would lean her head into your hand when you petted her. She perked up for her treats, and she always roused when Brant came home.
Why would we hang on to a pet who could do nothing for us—she had numerous accidents. Christmas Eve Larry had to bathe her between dinner and dessert. We washed her bed several times a week. She was heavy to lift.
We hung on because we loved her.
Jesus said "Are not five sparrows sold for two pennies? Yet not one of them is forgotten by God" (Luke 12:6). He knows each bird as we know Corrie.
Jesus was making the point that if God remembers sparrows, how much more does He treasure you. The world may not remember us when we are gone, but God will, because He loves us (Psalm 103:14-16).
Our family will never forget Corrie. Her antics as a puppy, misbehavior as a healthy adult, and her affection throughout her life have memorialized her in our hearts. Certain Bible verses are linked to her. The word disobedience in Romans 5:19 literally means "to hear along side." Corrie turned her head aside when she wasn't intending to obey. Obedience means "to hear under." She tilted her head up to me when she planned to submit.
Do you have an imperfect pet you'll never forget? When you think about your pet, remember how much more God loves you.
Blessings,

Women's Bible Study: Have you bought the lie that life should be easy and pain-free? Learn how to face and defeat the bandits that steal our rest—such as unrealistic expectations, mean people, negative thinking, guilt, worry, and pressure to please or perform. Ginny Wilson will be facilitating the Bible study Debbie wrote on Rest. It begins next Tuesday, June 19th  from 7-9 PM. Call or email if you are interested in joining her (919 469-2477). You will want to pickup your study to get started.
If you would like to receive these weekly articles by email, fill in the subscribe section.